Model Description
Prices start from £6999.00 – contact us for more information
The new TRRS ONE R 2024
the model of the brand in which Subtlety and Performance best coexist, arrives to market with a completely renewed design, thanks mainly to the presence of the black color on the frame and the new 2024 graphic line that applies to all TRRS models.
It presents outstanding improvements in terms of quality and reliability, with already distinguished features well considered by both, professional and amateur riders.
The ONE R model represents an intermediate step between the ONE and the ONE RR. It uses the prestigious TECH aluminum fork in black, a REIGER rear shock, 28mm KEIHIN PWK carburetor and the new swingarm designed recently by TRRS.
All this provides a high level driving experience for all types of users, thanks as well to the new low-compression head instert, being the ideal choice for those looking to enjoy the pure pleasure of Trial, a high performance, intuitive and easy-to-ride motorcycle.
CYCLE PART
Frame: Aluminium frame with new black anodising.
Swingarm: New TRRS-designed swingarm in silver colour, which gives it more dimensional precision, as well as an operation that provides a greater feeling and sensitivity on the rear axle.
The assembly is equipped with a new pin, bushing and seals on the swing axle, which considerably reduces the free play of the system and its maintenance, as well as facilitating its assembly.
Chain Tensioner: It also features a new spring and chain tensioner bushing that increases the spring's fatigue strength, reducing spring maintenance.
Footpegs: New aluminium microfusion footpegs inherited from RR model.
Skid plate protector: New engine protection rubber. Provides better contact and impact protection.
Front Suspension: New black anodised plates.
Electrical Installation: New stop system with man overboard security device.
Racing headlamp cowl: Racing headlamp cowl in black colour, according to the new design line of the bike.
Graphics: The new graphics harmonise the new ONE R 2024 in its entirety, with an aggressive yet elegant design.
ENGINE 250-280-300 cc.
New low-compression cylinder head for improved low-end performance and smoother high-rpm response.
Electric Start
* There is the possibility of equipping the bike with electric starter and the new TRRS-designed carburettor choke puller.
* Available in July from the official TRRS dealer network in different versions:
Standar: 300-280-250-125 cc.
With Electric Start: 300–280–250 cc.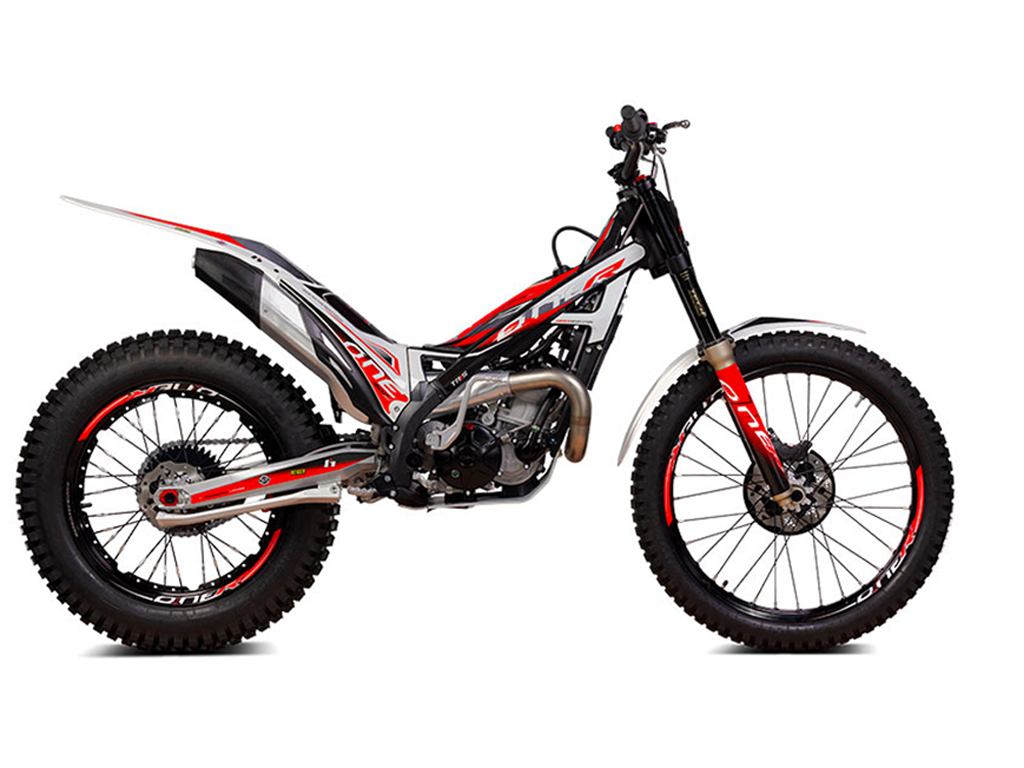 Brand Name
Product Name
Price
Product Availability