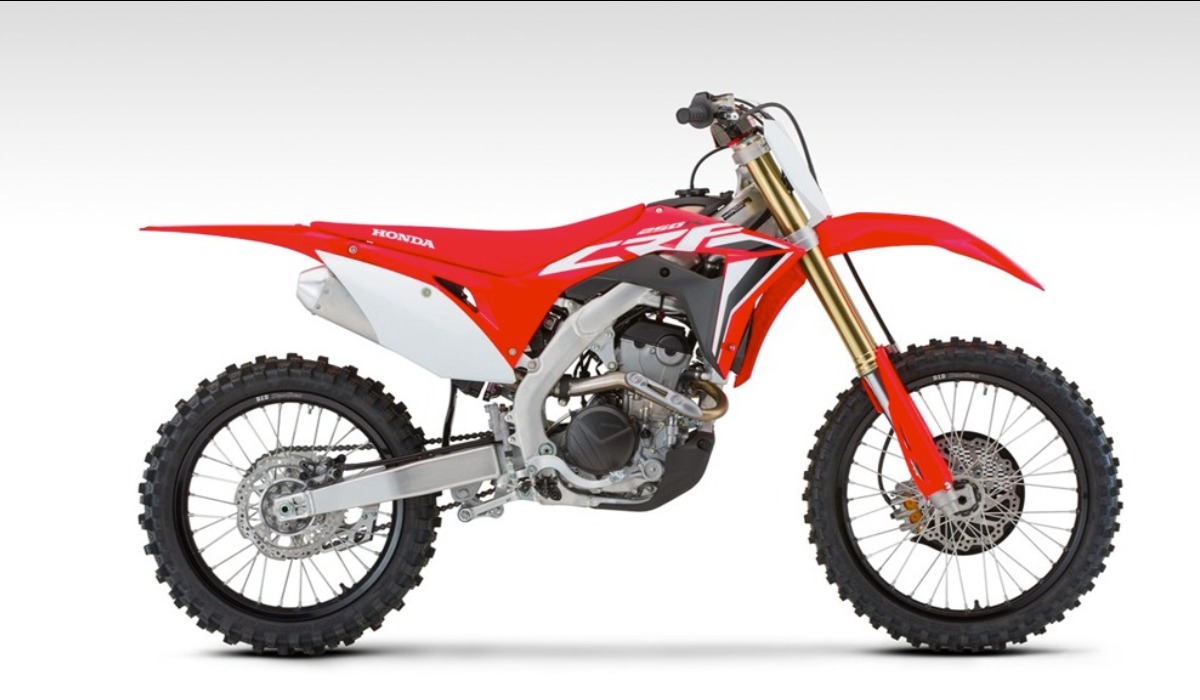 Model updates: The new CRF250R links up its strong bottom-end torque and potent top-end power with a much bigger hit of both through the mid-range; the 19YM CRF450R frame and swingarm now provide the basis for the chassis, with revised damping for the Showa suspension.
Contents:
1 Introduction
2 Model overview
3 Key features
4 Technical specifications
1. Introduction
The MX2 class is a relentless close-quarter battle – elbow-to-elbow action where every fraction of a second counts. Honda's CRF250R has proved itself a worthy weapon for the fight. Competition has led its evolution over time, through increments and steps, into a platform that the amateur MX enthusiast – as well as pro-racer – can extract the utmost out of, every metre of every lap.
For 18YM the CRF250R underwent a ground-up redesign that inherited the 'Absolute Holeshot' philosophy of the 17YM CRF450R, sharing its seventh-generation frame, revised geometry and Showa suspension. It was also armed with a brand-new DOHC engine and switchable engine mapping; rider-focused ergonomics ensured it remained an MX machine that the hobby rider could exploit to their individual level of ability.
Just one year on from this full model change the 19YM CRF250R received a boost to low-rpm torque, through extensive intake and exhaust development, plus HRC launch control, revised front brake caliper and adjustable-position Renthal Fatbars.
Now 20YM is here. And the CRF250R moves forward once again. Low to mid-range torque receives a major boost, while its frame and swingarm are new, mirroring that of the 19YM CRF450R.
2. Model Overview
Riders love the CRF250R's top-end power hit. After 19YM's bottom-end improvement, focus of development for the 20YM machine was torque and power in the low-to-mid range. And Honda's engineers have achieved just that – plus extra top end power – with extensive work to the combustion chamber.
The 2nd gear ratio is now closer to 3rd to reduce the natural drop in engine rpm when making that crucial upshift; clutch performance has also been improved. Detailed improvements to intake and exhaust efficiency, plus engine mapping all work together to achieve the overall goal of improved drive.
To match the engine upgrade the new CRF250R's frame and swingarm are identical to the 19YM CRF450R. Both items are grams lighter but – more significantly – have a carefully tuned rigidity balance; combined with new compression damping settings for both front and rear Showa suspension, the result is improved stability, feel and accuracy while tracking through fast, bumpy turns.
3. Key Features
3.1 Engine
Much stronger torque through the mid-range, plus more peak power
Revised cam profile and exhaust valve timing
New combustion chamber shape reduces detonation
Optimised ignition timing and individual FI mapping for gears
2nd gear ratio adjusted to maintain rpm when shifting to 3rd
Improved torque and power between 6-10,000rpm was the target for the 20YM CRF250R – and the dyno curves demonstrate the results clearly, with a significant gain in both compared to the previous model. Hand-in-hand with this boost went the reduction of performance-inhibiting engine 'knock' (detonation) at larger throttle openings/mid-rpm situations.
Peak power rises by 4%, and arrives at 12,000rpm; peak torque is up by a massive 8%, arriving at 10,000rpm. While peak power now arrives 1,000rpm earlier, the rev limit is reduced by just 100rpm to 14,300rpm, maintaining corner-to-corner over-rev.
Even more impressive is the significant upgrade to the all-important mid-range: torque at 8,000rpm is improved 10%, so the CRF250R now links its strong bottom-end torque and top-end power with a much harder, and consistent 'hit' right through the middle.
The improvements have been achieved through a new cam profile and revised shaping of the inlet/exhaust ports, piston and combustion chamber, which keep the exhaust valve open for longer, but with less overlap with the opening of the intake valve. The internal volume of the exhaust ports goes from 12cm3 to 12.7cm3, while the piston crown's cutaways are re-shaped, increasing volume from 21.7cm3 to 22.2cm3. And to cope with the extra heat generated by the harder-working engine the radiator volume has been increased.
There are other detail changes; a 10% larger surface area for the air filter draws more air and the exhaust downpipe does away with the resonator mounted to the previous design. And to maintain engine rpm when shifting from 2nd to 3rd the gap between the two gears is closer; 2nd is now 16 main/28 counter giving a 1.75 ratio (from 15/27, 1.8) while 3rd remains 17/25 and 1.47.
To improve durability 3rd and 4th gear gain a new surface treatment; and, like the 19YM CRF450R, the addition of a gear position sensor allows the use of three specific ignition maps for 1st and 2nd, 3rd and 4th, and 5th. The clutch spring rate has also been increased, giving an 18% increase in performance.
Bore and stroke remains 79 x 50.9mm, with a 4.5mm cylinder offset to reduce friction and compression ratio of 13.9:1. The valves are titanium; 33mm inlet and 26mm exhaust. Lift is 10.5mm inlet and 9.5mm exhaust and the valve angle is set at 20.5°. The valve springs themselves are oval in section; the inlet valves are fed by symmetrical straight-shot downdraft intakes.
The piston is a Bridged Box design. Its rigidity converts combustion pressure into high output efficiency; a 5-hole piston oil jet maintains optimum piston cooling and ignition timing. A scavenge oil pump system reduces friction and 'pumping' losses at high rpm, by discharging oil and air in the crankcase and maintaining negative pressure. The oil also lubricates the clutch and gearbox, with a total oil capacity of 1.25L.
The combined oil pump/drive gear, oil filter and oil way are on the right side of the engine – the oil's path around the engine is short and straightforward. Valve train lubrication is routed through the cylinder head to the inside of both inlet and exhaust cam, directly feeding the sliding surface of cam and rocker arm.
3.2 Electronics
HRC Launch Control offers 3 start options
Engine Mode Select Button (EMSB) features 3 maps to adjust output character
HRC's Launch Control system gives any rider the best option for a strong start and has 3 modes to choose from:
Level 3 – 8,250rpm, muddy conditions/novice.
Level 2 – 8,500rpm, dry conditions/standard.
Level 1 – 9,500rpm, dry conditions/expert.
Activating HRC Launch Control is easy – to turn on, pull in the clutch and push the Start button on the right. The LED will blink once for Level 1 selection. Push the Start button again, for 0.5s or longer, and the LED will blink twice for Level 2. Repeat the process and the LED will blink 3 times, indicating that Level 3 has been chosen.
The Engine Mode Select Button (EMSB) alters the engine's characteristics and three maps are available to suit riding conditions or rider preference: Mode 1 (Standard), Mode 2 (Smooth) and Mode 3 (Aggressive). The LED also displays Mode selected.
The rider controls and displays – engine stop button, EFI warning, EMSB mode button and LED indicator – are all sited on the left handlebar.
3.3 Chassis
New frame and swingarm, taken directly from the 19YM CRF450R
Improved stability and cornering accuracy
Showa fork and shock re-valved for increased low-speed compression damping under hard braking and acceleration
New rear brake pad material enhances power and longevity
The 20YM CRF250R gets the current CRF450R seventh-generation twin-spar aluminium frame, which was revised in detail for 19YM. Fractionally lighter (190g) due to a slimmer design around the swingarm pivot plates, it maintains lateral and torsional stiffness for turning ability and traction, while increasing yaw-angle stiffness for improved stability and tracking accuracy into, through and out of a corner.
The aluminium swingarm is also identical to the CRF450R's, saving 160g and with a rigidity balance tuned to match the frame. Also lighter are the new footpegs, which use a 4-web (rather than 6) internal structure to clear mud; the battery box is now sited 28mm lower to improve mass centralisation.
Rake remains 27° 29'/116mm, with a slightly 4mm longer wheelbase of 1486mm. Wet weight is 108kg. The fully adjustable 49mm Showa USD coil spring fork is a version of the Showa 'factory' fork supplied to MX race teams in the Japanese championship; the cylinder has a 25mm diameter, the rod 14mm and the compression piston 39mm.
To complement the frame's abilities – and with the target of improved response in the hard-braking zone – the rod-end 'B' hole diameter has decreased from 2.4 to 1.6mm to up the low-speed compression damping.
Likewise, the Showa rear shock's main piston valving has been revised with greater low-speed compression damping (and less high-speed compression damping) to give improved control under hard acceleration.
The twin-piston front brake caliper uses 30 and 27mm diameter pistons; along with low-expansion rate brake hose, they give both a strong brake feel, and staying power. It works on a 260mm wave-pattern disc. For 20YM a new rear brake pad material for the single-piston caliper increases power and durability in muddy conditions, and dispenses with the need of a cover guard for the 240mm wave-pattern disc.
Lightweight DID aluminium rims, with directly attached spoke pattern layout are finished in black; the front is a 21 x 1.6in, the rear a 19 x 1.85in. Fitted as standard equipment are Dunlop's GEOMAX MX3S tyres, 80/100-21 front and 100/90-19 rear.
Also standard-fit, the lightweight Renthal Fatbar flex for optimal comfort; the top yoke features two handlebar-holder locations for moving the handlebar rearward and forward by 26mm. When the holder is turned 180°, the handlebar can be moved an additional 10mm from the base position, resulting in four unique riding positions.
The CRF250R uses a lightweight 6.3L titanium fuel tank. Its smooth external lines of the plastics help the rider move easily, and the narrow frontal area and front mudguard directs an efficient funnel of air to the radiator. The radiator shrouds use durable film inset graphics that are identical to the 20YM CRF450R.
4. Technical Specifications
| | |
| --- | --- |
| ENGINE |   |
| Type | Liquid-cooled 4-stroke single DOHC |
| Displacement | 249.4cc |
| Bore ´ Stroke | 79mm x 50.9mm |
| Compression Ratio | 13.9 : 1 |
| Oil Capacity | 1.3 litres |
| FUEL SYSTEM |   |
| Carburation | Fuel injection |
| Fuel Tank Capacity | 6.3 litres |
| ELECTRICAL SYSTEM |   |
| Ignition | Full transistor |
| Starter | Electric |
| DRIVETRAIN |   |
| Clutch Type | Wet multiplate |
| Transmission Type | Constant mesh |
| Final Drive | Chain |
| FRAME |   |
| Type | Aluminium twin tube |
| CHASSIS |   |
| Dimensions (L´W´H) | 2,181mm x 827mm x 1,260mm |
| Wheelbase | 1,486mm |
| Caster Angle | 27.5 degrees |
| Trail | 116mm |
| Seat Height | 957mm |
| Ground Clearance | 327mm |
| Kerb Weight | 107.8kg |
| SUSPENSION |   |
| Type Front | 49mm Showa coil-sprung fork |
| Type Rear | Showa monoshock using Honda Pro-Link system |
| WHEELS |   |
| Type Front | Aluminium spoke |
| Type Rear | Aluminium spoke |
| Tyres Front | 80/100-21 Dunlop MX3S |
| Tyres Rear | 100/90-19 Dunlop MX3S |
| BRAKES |   |
| Front | 260mm hydraulic wave disc |
| Rear | 240mm hydraulic wave disc |
All specifications are provisional and subject to change without notice.