Model Description
TRS BIKE TRIAL 2020, 20" & 26"
TRS BIKE TRIAL, practical, light and effective !!!
TRS expands its range of models and enters into the Bike Trial segment with an offer of 20? and 26?
Since its foundation, TRS has progressively covered all the fields that have to do with trialsports, being the only brand 100% specialized in this segment, it was not uncommon for the brand to propose its entry into the world of Bike Trial, strengthening the structure of its business and increasing its synergies with some of the companies of the Group, in this case Clean Trials, led by Abel Mustieles, world champion of its modality and the person who from a mechanical and industrial perspective has proposed together with Jordi Tarrés the two TRS models that will arrive to the shops soon.
TRS, aware that it enters a market where the competition is voracious, has decided to do it with three models, the TRS Bike Trial of 20? using rear tyre and wheel size 20 x 2.0 for start level, the TRS Bike Trial 20" (wrt –wide rear tyre) using rear tyre of dimensions 19 x 2.6 for adults and Elite riders, and the TRS Bike Trial 26?, resorting to the best combination between innovation and simplicity so that the fun to their controls is assured.
20" & 20" wrt
FEATURES:
Frame: Clean X1. Aluminio 6061 T6 + 7075 T6
Fork: Clean X1. Aluminio 7005 T6. HS o PM
Handlebar: Clean ALU. 103mm total rise.
Grips: Clean Foam. Extra thin.
Stem: Clean 90x 25º
Headset: Clean Tapered. Superlight. Semi integrated
Hubs: Clean Expert Hubs 100mm front, 116 mm rear
Brakes: Magura MT2 Rotors: Clean RS 160mm + 162.5mm
Bottom Bracket: ISIS Drive 128mm
Pedals: Clean Single Cage.
Chain: KMC 610HX
Chain tensioner: Clean Integrated. 7075 CNC plate. 11T plastic wheels.
Rims: Clean High Profile.
Spokes: 1.8mm Black Nipples: 16G Aluminium Red
Freewheel: 108.9. 18T.
Sprocket: Clean 13T Front
Tyre: Clean Koala 20" Rear tyre: Clean Koala 19" Front tube: Maxxis Rear tube: Maxxis Rear tyre & wheel: Junior 's, 20 x 2.0; adults & Elite, 19 x 2,6(wrt).
GEOMETRY:
Wheelbase: 930mm
BB high: +63mm
Chainstay: 344mm
Head angle: 72º
Reach: 550mm
26"
FEATURES:
Frame: Clean X1. Aluminio 6061 T6 + 7075 T6
Fork: Clean X1. Aluminio 7005 T6. HS o PM
Handlebar: Clean ALU. 103mm total rise.
Grips: Clean Foam. Extra thin.
Stem: Clean 145 x 25º
Headset: Clean Tapered. Super light. Semi integrated
Hubs: Clean Expert Hubs 100mm front, 116 mm rear
Brakes: Magura HS33
Supports: Clean 3D
Bottom Bracket: ISIS 128mm
Pedals: Clean Single Cage.
Chain: KMC 610HX
Chain tensioner: Clean Integrated. 7075 CNC plate. 11T plastic wheels.
Rims: Clean High Profile.
Spokes: 1.8mm Black Nipples: 16G Aluminium Red
Freewheel: 108.9. 18T.
Sprocket: Clean 15T
Front tyre: Monty Pro Race 20" Rear tyre: Monty Pro Race 19"
Front tube: Maxxis
Rear tube: Maxxis
GEOMETRY:
Wheelbase: 1077mm
BB high: +68mm
Chainstay: 380mm
Head angle: 72º
Reach: 670mm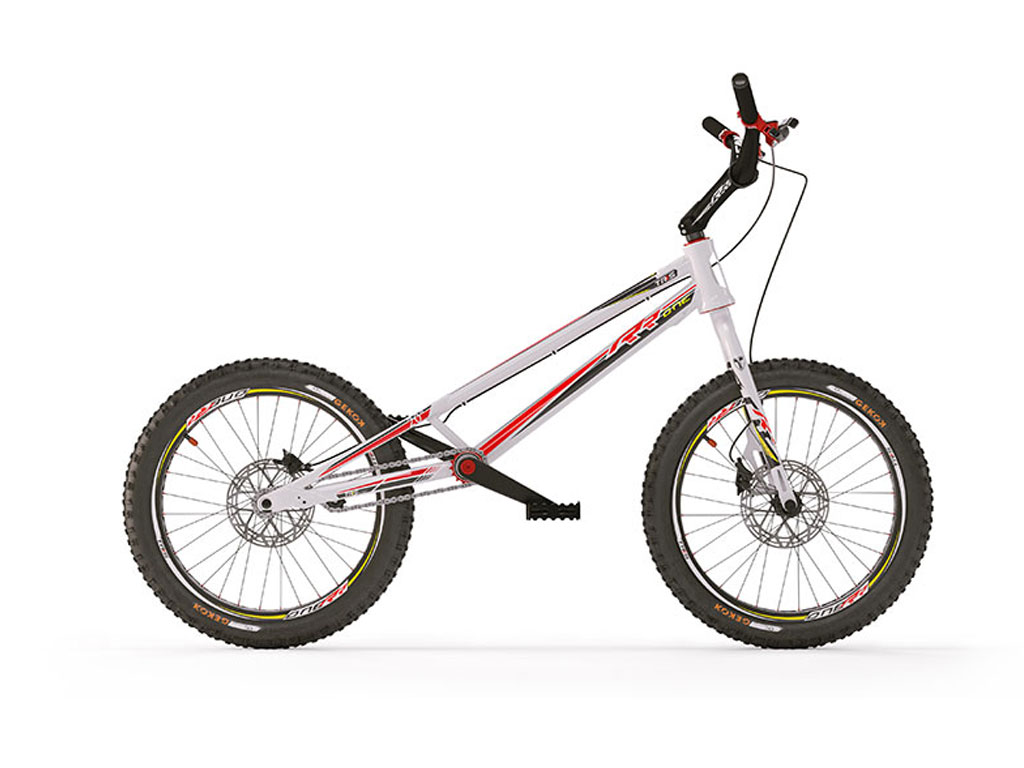 Brand Name
Product Name
Price
Product Availability