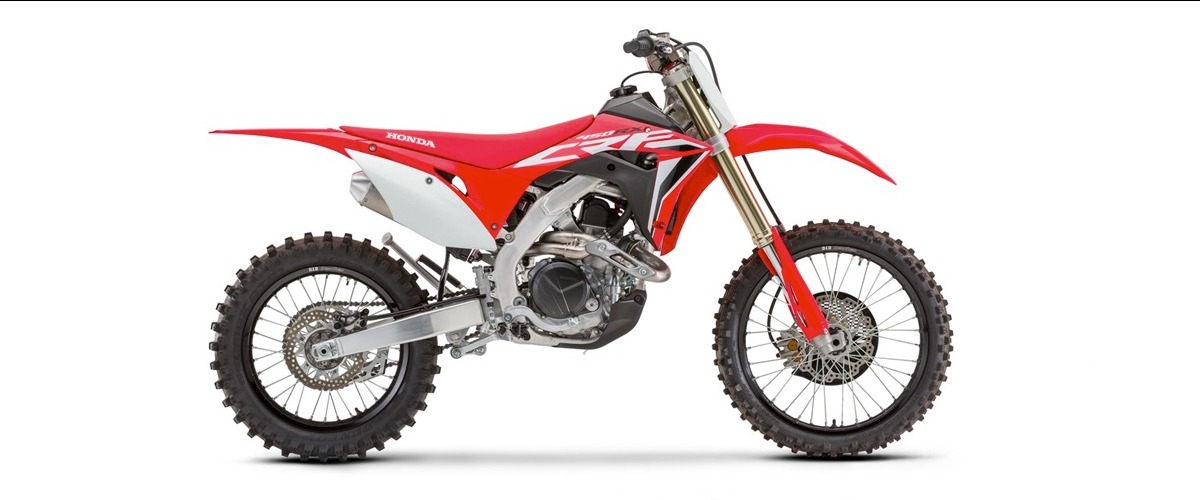 Honda's cross-country specification CRF450RX is now equipped with Honda Selectable Torque Control, hand-in-hand with optimisation of the PGM-FI and HRC Launch Control mapping. The Showa suspension features revised settings, and there are also updates to the rear brake and graphics.
Contents:
1 Introduction
2 Model overview
3 Key features
4 Technical specifications
1. Introduction
For 17YM Honda introduced an all-new, competition-ready cross-country machine into its off-road line up – the CRF450RX. And it took as its rock-solid base the engine and chassis of the 17YM CRF450R – Honda's first totally new 450cc motocrosser in eight years – with modifications including larger fuel tank,18-inch rear wheel plus PGM-FI mapping and suspension changes.
The CRF450R – Honda's flagship off-road racer – has an engine that produces hard-hitting, useable power and a chassis that allows the rider to put that power to the best possible use. All of which makes it the perfect platform to expand, giving the CRF450RX both the pure MX DNA to deal with any enduro stage and the confidence-inspiring competence to handle flat-out trails, challenging climbs and tight, tricky sections with ease.
An HRC-developed cylinder head upped peak power and torque considerably in 19YM, and HRC launch control was added along with revised rigidity balance for the frame and swingarm, a new front brake caliper and adjustable-position Renthal Fatbar.
For 20YM (and just like the CRF450R) the CRF450RX gets a new electronics package, further perfecting a formidable off-road weapon that's both devastatingly fast over the ground, and easy to live with over the years of ownership.
2. Model Overview
Alongside optimised PGM-FI engine maps and HRC Launch Control, for 20YM the CRF450RX gains a new Honda Selectable Torque Control (HSTC) system, with 3 riding Modes to assist every rider, from beginner to pro, to manage rear wheel traction and gain drive.
The frame and swingarm are also unchanged but there are new compression damping settings for the Showa suspension. The rear brake gets a pad material revised for durability, and the battery box is re-sited.
New graphics for the radiator shrouds complete the update.
3. Key Features
3.1 Electronics
Honda Selectable Torque Control (HSTC) with 3 riding modes (plus OFF)
HRC Launch Control offers 3 start options
Engine Mode Select Button (EMSB) features 3 maps to adjust output character
The HSTC fitted to the 20YM CRF450RX works to minimise rear wheel spin (thus wasted forward drive) and maximise traction. It doesn't use a wheel speed sensor, and critically maintains feel at the throttle while managing power; ignition timing is retarded and the PGM-FI controlled when the rate of change of rpm is detected to have gone over a set amount.
The three Modes differ in drive management level for different riding conditions:
In Mode 1 the system intervenes most lightly, and after the longest time – useful for reducing wheelspin and maintaining control in tight corners.
Mode 3 has the system intervene more quickly and strongly, and is therefore useful in more slippery, muddy conditions.
Mode 2 naturally offers a mid-point between 1 and 3 in terms of speed and strength of intervention.
Pressing and holding the HSTC button for 0.5s will cycle the system to the next mode, with a green LED indication – 1 blink for mode 1, 2 for mode 2 and 3 for mode 3 – to confirm selection.
The HSTC system can also be switched off completely. When the engine is turned on, the system uses the last-selected setting.
HRC Launch Control gives any rider the best option for a strong start and has 3 modes to choose from:
Level 3 – 8,250rpm, muddy conditions/novice.
Level 2 – 8,500rpm, dry conditions/standard.
Level 1 – 9,500rpm, dry conditions/expert.
Activating HRC Launch Control is easy – to turn on, pull in the clutch and push the Start button on the right. The LED will blink once for Level 1 selection. Push the Start button again, for 0.5s or longer, and the LED will blink twice for Level 2. Repeat the process and the LED will blink 3 times, indicating that Level 3 has been chosen.
The Engine Mode Select Button (EMSB) alters the engine's characteristics and three maps are available to suit riding conditions or rider preference:
Mode 1 – Standard.
Mode 2 – Smooth.
Mode 3 – Aggressive.
The LED also displays Mode selected, but with a blue light.
The rider controls and displays – Launch Control indicator, EFI warning, EMSB mode button, and LED indicator – are sited on the left handlebar, with a separate unit for the new HSTC alongside.
3.2 Chassis
Showa fork and shock re-valved for increased low-speed compression damping under hard braking and acceleration
Battery box re-sited to improve drive and airflow
New rear brake pad material enhances power and longevity
The new CRF450RX's seventh-generation twin-spar aluminium frame was revised in detail for 19YM and is unchanged for 20YM; it maintains lateral and torsional stiffness for turning ability and traction, with increased yaw-angle stiffness for improved stability and tracking accuracy into, through and out of a corner.
The aluminium swingarm has a stiffer rigidity balance tuned to match the frame; the battery box is now sited 28.5mm lower to improve mass centralisation and drive. Rake and trail are set at 27.4°/116mm, with wheelbase of 1477mm; dry weight is 110kg, wet weight 116kg
Fully adjustable, the 49mm Showa USD coil spring fork is a version of the Showa 'factory' fork supplied to MX race teams in the Japanese championship. For 20YM – with the target of improved response in the hard-braking zone – the rod-end 'B' hole diameter has decreased from 2.4 to 1.6mm to up the low-speed compression damping.
Likewise, the Showa rear shock's main piston valving has been revised with greater low-speed compression damping (and less high-speed compression damping) to give improved control under hard acceleration.
Standard-fit, lightweight Renthal Fatbar flex for optimal comfort; the top yoke features two handlebar-holder locations for moving the handlebar rearward and forward by 26mm. When the holder is turned 180°, the handlebar can be moved an additional 10mm from the base position, resulting in four unique riding positions.
The twin-piston front brake caliper uses 30 and 27mm diameter pistons; along with low-expansion rate brake hose, it gives both a strong feel and improved staying power. It works on a 260mm wave-pattern disc. For 20YM a new rear brake pad material for the single-piston caliper increases power and durability in muddy conditions, and dispenses with the need of a cover guard for the 240mm wave-pattern disc.
Lightweight DID aluminium rims, with directly attached spoke pattern layout are finished in black; the front is 21 x 1.6in, the rear 18 x 2.15in. Fitted as standard equipment are Dunlop's bespoke enduro Geomax AT81 tyres: 90/90-21 front and 120/90-18 rear.
There's a potential range of 65km from the 8.5L plastic fuel tank, and a forged aluminium sidestand tucks neatly out of the way when not in use. The smooth external lines of the plastics help the rider move easily and the narrow frontal area and front mudguard directs an efficient funnel of air to the radiator.
The radiator shrouds use durable film inset graphics – updated for 20YM – that cover a wide area with scratch-resistant style.
3.3 Engine
Engine unchanged from 19YM HRC-led power and torque upgrade
PGM-FI and HRC Launch Control mapping optimised
The 19YM boost in peak power and torque to the CRF450RX's 449.7 four-valve Unicam engine was significant – 1.8kW more power at 9,500rpm and 2Nm more torque at 7,500rpm – but not achieved at the expense of low-down performance from 3,000rpm-up, which was also improved.
And the work HRC performed on the cylinder head was extensive; combustion chamber squish was revised, as well as piston skirt profile, piston ring and conrod while both right and left engine cases were optimised for strength versus weight.
For 20YM the engine remains unchanged, with the focus of development on refinements and optimisation of the PGM-FI mapping, HRC Launch Control and addition of HSTC.
Bore and stroke is set at 96 x 62.1mm with compression ratio of 13.5:1. A gear position sensor allows the use of three specific ignition maps for 1st and 2nd, 3rdand 4th, and 5th and the PGM-FI injects fuel twice per cycle – the new air cleaner element base employed in 19YM more than doubled the surface area, with much greater flow as a result. The exhaust uses differing, larger diameter bores where it splits from the downpipe; 35mm right and 42mm diameter left and the left exhaust is also 89mm longer than the right.
Rock-solid reliability has always been a big factor in the CRF450RX's success and a 5-hole piston oil jet and dual 12mm drum scavenge pump manage lubrication.
4. Technical Specifications
| | |
| --- | --- |
| ENGINE |   |
| Type | Liquid-cooled 4-stroke single cylinder uni-cam |
| Displacement | 449.7cc |
| Bore ´ Stroke | 96.0mm x 62.1mm |
| Compression Ratio | 13.5 : 1 |
| FUEL SYSTEM |   |
| Carburation | Fuel injection |
| Fuel Tank Capacity | 8.5 litres |
| ELECTRICAL SYSTEM |   |
| Ignition | Digital CDI |
| Starter | Electric |
| DRIVETRAIN |   |
| Clutch Type | Wet multiplate |
| Transmission Type | Constant mesh |
| Final Drive | Chain |
| FRAME |   |
| Type | Aluminium twin tube |
| CHASSIS |   |
| Dimensions (L´W´H) | 2,175mm x 827mm x 1,260mm |
| Wheelbase | 1,477mm |
| Caster Angle | 27.4° |
| Trail | 116mm |
| Seat Height | 960mm |
| Ground Clearance | 328mm |
| Kerb Weight | 116kg |
| SUSPENSION |   |
| Type Front | Showa 49mm USD spring fork |
| Type Rear | Showa monoshock using Honda Pro-Link |
| WHEELS |   |
| Type Front | Aluminium spoke |
| Type Rear | Aluminium spoke |
| Tyres Front | 90/90-21 54M Dunlop MX3SF |
| Tyres Rear | 120/90-18 65M Dunlop MX3S |
| BRAKES |   |
| Front | Single 260mm disk |
| Rear | Single 240mm disk |
 All specifications are provisional and subject to change without notice.